Reykjavik Iceland rent a car and 4x4 rent a car
Reykjavik Iceland rent a car and 4x4 rent a car at Dollar Rent A Car is a perfect choice. A reliable rent a car company, great service and quality rent a car and 4x4 rent a car that suits Iceland road conditions. Dollar Reykjavik Rent A Car location is a good option if you are staying in Reykjavik as our location is just next to Route 1 exit to either south east or north west of Iceland. Your start of your trip could not be easier. Our cars for rent and 4x4 cars for rent in Iceland at Dollar Rent A Car are of a wide variety at great value. Quality cars and great customer service is what you will get as we love to serve our rent a car customers. You can prepare yourself by checking our answers to the frequently asked questions or talk to our representatives. They are eager to answer all of your questions about driving in Iceland so you can be as ready as possible for navigating the often tricky roads of Iceland. Book now.
Out of hours return
You can return your rental car out of hours if you arrive outside of opening hours. You simply park the car outside our office and put the keys in the drop box that is located on the left side of the door at our office. The bus station is located close to our office and it is easy to take the bus, see more on www.bus.is. You can also call a taxi.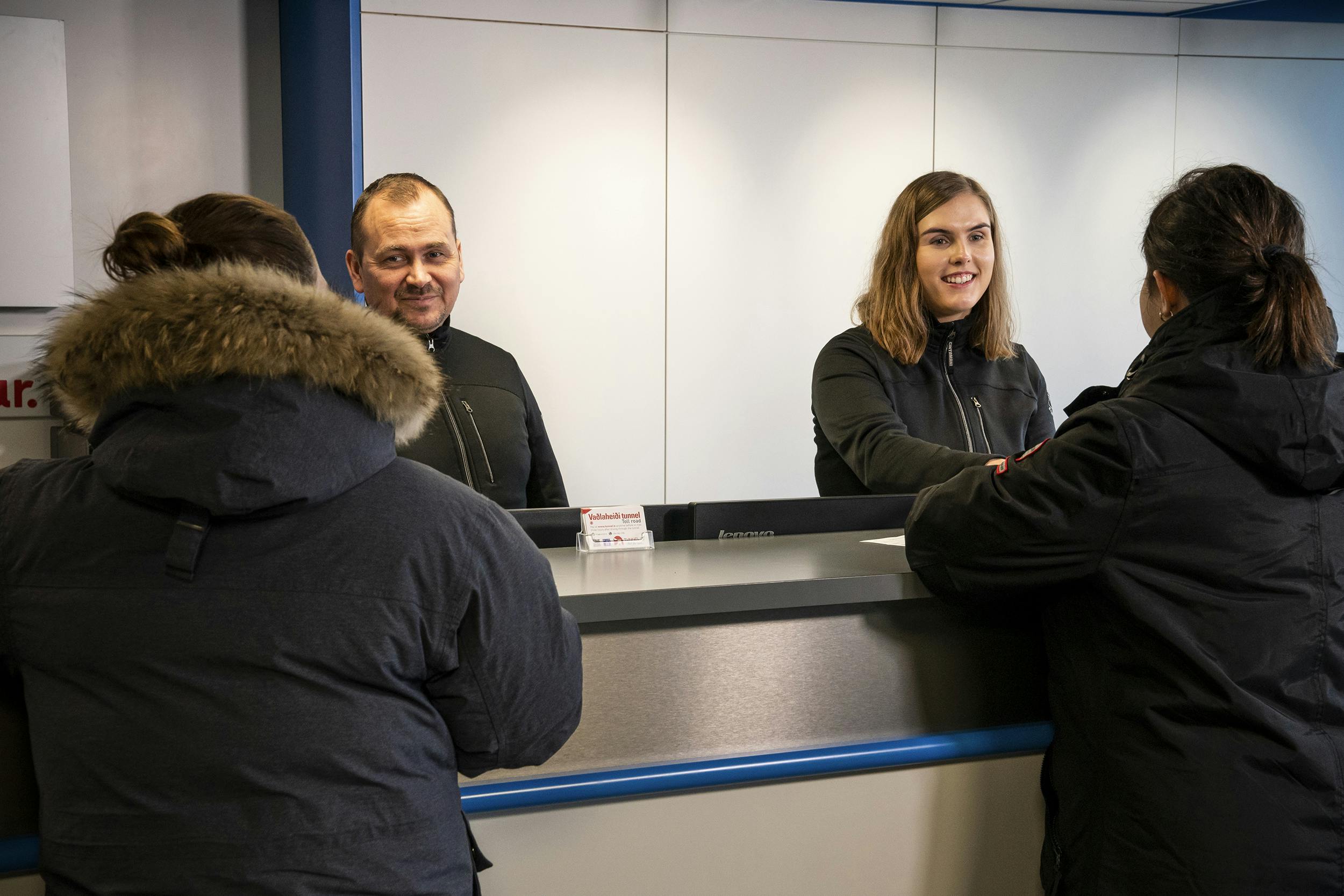 Rent a car in Reykjavík with Dollar Rent A Car. We provide excellent customer service and quality rent a cars.
Opening hours
Winter opening hours: 1. October - 30 April
| | |
| --- | --- |
| Monday | 08:00-17:00 |
| Tuesday | 08:00-17:00 |
| Wednesday | 08:00-17:00 |
| Thursday | 08:00-17:00 |
| Friday | 08:00-17:00 |
| Saturday | 08:00-15:00 |
| Sunday | 08:00-15:00 |
Summer opening hours: 1 May - 30 September
| | |
| --- | --- |
| Monday | 08:00-17:00 |
| Tuesday | 08:00-17:00 |
| Wednesday | 08:00-17:00 |
| Thursday | 08:00-17:00 |
| Friday | 08:00-17:00 |
| Saturday | 08:00-17:00 |
| Sunday | 08:00-17:00 |
Holiday opening hours
| | |
| --- | --- |
| December 24, 2023 | 10:00-12:00 |
| December 25, 2023 | Closed |
| December 26, 2023 | 10:00-14:00 |
| December 31, 2023 | 10:00-12:00 |
| January 1, 2024 | 10:00-15:00 |
| March 29, 2024 | 10:00-15:00 |
| March 31, 2024 | 10:00-15:00 |
| May 19, 2024 | 10:00-16:00 |
| June 17, 2024 | 10:00-16:00 |
| December 23, 2024 | 10:00-16:00 |
| December 24, 2024 | 10:00-12:00 |
| December 25, 2024 | Closed |
| December 31, 2024 | 10:00-12:00 |
Address
Bíldshöfði 8, Reykjavík